Skip to Content
Propane Gas Services in
Kiel, WI
Outfit Your Home With a New Propane Supplier
The Weber family founded Web-Pro L.P. Gas, Inc. in 1991 to meet the growing demand for propane in homes and businesses as an economical fuel source. Propane is one of our specialties. As your one-stop-shop for propane gas delivery and supplies, we outfit your home with budget-saving heating options. It gets cold in Kiel, WI, and our propane gas service will help keep your business or house warm and toasty through the long winter months.
Why You Should Switch to Propane Gas
Many of our customers have used conventional heating methods and have seen their heating costs skyrocket. Propane is a logical solution to energy consumption problems because it costs far less than electric or natural gas. There is no shortage of reasons to consider propane as an alternative heating source. Still, we believe some advantages rise above the rest:
Efficiency and Affordability
Propane is an exceptionally high-efficiency heating oil and requires far less energy than electric- and natural gas-powered heating sources. Efficiency equals lower bills, and propane provides both in spades.
Versatility
Not only does propane heat homes, but it is also an excellent source for appliances throughout the house, such as stoves, ovens, washing machines, and water heaters. By using propane to power your home, you'll get the most out of the things you use every day.
Safety
Propane is a non-toxic gas, so you can feel comfortable using it to power your house or office. It also requires incredibly high temperatures to catch fire, which makes it even safer than some of the alternatives.
Environmentally-Friendly
Propane is a low carbon and clean-burning fuel, which means it is not a greenhouse gas. Even better, if your tank suffers a leak or puncture, the propane itself won't harm or erode the soil or grass.
Propane for Houses, Agriculture, and Refueling Stations
Propane is an excellent source of affordable heating. For instance, not only will it warm your house efficiently and cheaply, but our team can install the propane tanks themselves in subtle and hidden ways. So, if you're concerned about disrupting your view or marring your landscaping, don't. We can make the tank virtually invisible. But propane isn't merely for home heating! You can use propane in numerous settings due to its versatility, reliability, and safety. In the past, our team has installed, repaired, and maintained propane systems such as:
Agricultural
We offer agricultural propane services to all our agricultural industry neighbors. If you're dissatisfied with your property's heating and operational costs, propane might be the answer. We can transform an electric-powered property or merely replace broken systems. Agricultural clients can use propane for parlor, greenhouse heat, water heating, and corn drying.
Refueling Stations and RVs
We pride ourselves on our flexibility and willingness to make things easier for our customers. We have refueling stations situated throughout the area for ease of use. Propane also makes for an outstanding fuel source for RVs. If you love to travel around the country, save a few bucks with a propane-powered RV.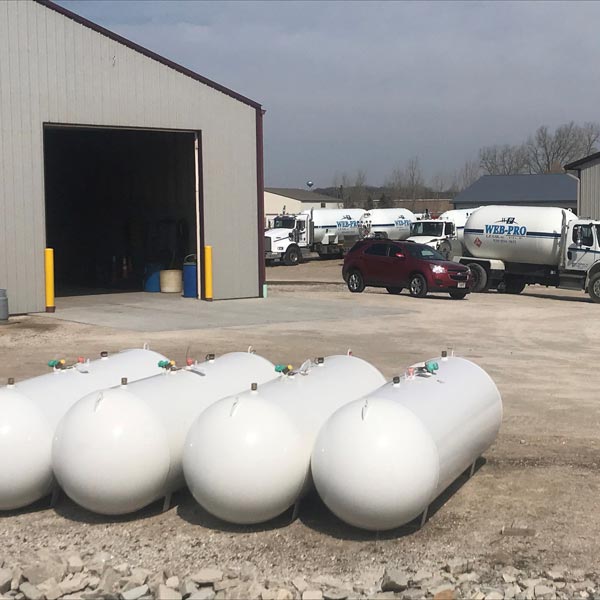 Where Do I Refill My Propane Tank?
Weber Oil Company, Inc. got our start in 1969. If our experience has taught us anything, it's the importance of delivering comfort to your front door. We know you're busy, and running out of propane isn't an option, so we provide our customers with on-point propane delivery services. Where do you refill your propane tank? We'll bring it to you. We also have refueling stations throughout the area, giving our customers increased options for refueling services. In addition to keeping your supply going, we provide the following services:
Conversions from Electric to Propane
Repairs
New Installations
24/7 Emergency Support
Safety Inspections
Refilling/Fueling Locations:
Why You Should Choose Web-Pro L.P., Inc.
Weber Oil Company, Inc. has years of experience providing propane energy sources to Kiel and the surrounding areas. We believe that building long-standing relationships are important. As a family-owned and -operated company, we're good at it. Our company is locally-based, ensuring you always receive personalized, first-name-basis treatment. Our exceptional service and high-quality products combine to give our customers the best possible outcome for their heating problems. And because we prioritize safety and customer satisfaction, our customers never worry about unforeseen complications.
Contact Web-Pro L.P., Inc. to Get Started Today!
We encourage you to consider switching to propane soon. Whether winter is looming, or you've already got your winter boots and fur-lined coats out, there's never a bad time to do so. We're experts, and we're more than willing to answer all your questions about propane heat for homes, agriculture, refueling stations, and RVs. Contact Weber Oil Company, Inc. today to learn more about propane or to schedule propane services. We can't wait to build a relationship with you.